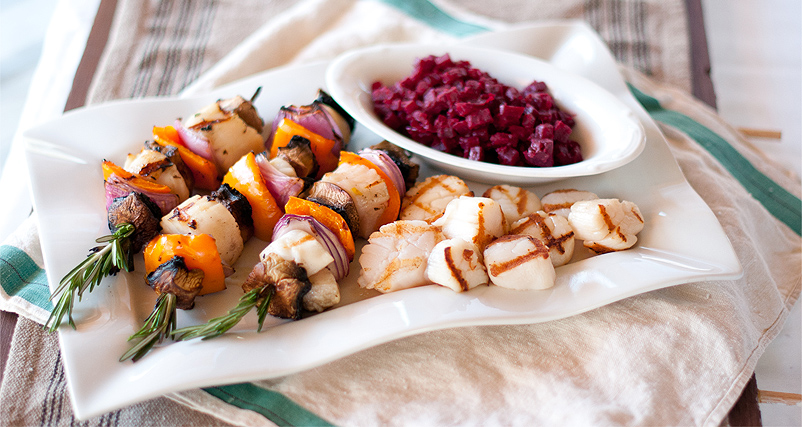 Summertime is for celebrating the bounty from our ocean and bays. We wait all winter long to crack into bushels of cooked crabs covered in Old Bay®. Shrimp are peeled by the dozens and scallops grilled by the pounds. Over the years our Persnickety Chef, Jon Davis has shared some of his favorite seafood recipes with us and now, in the spirit of summer, we're sharing them with you. So head to the fish monger, ocean, or bay, and then get cooking!
---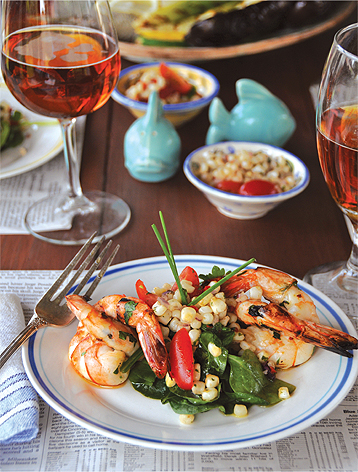 Grilled Shrimp with Tomato Corn Salsa and Spinach Salad
(Serves 4 as first course)
1 head roasted garlic, cooled and mashed
3 tablespoons chopped parsley
Juice and zest of 2 limes
3 tbsp olive oil
Salt and pepper
1 lb shrimp peeled and deveined
Mix all ingredients together. Add shrimp. Toss well. Marinate no more than ½ hour. Grill 3 minutes per side on medium heat. Serve with salad.
Roasted Corn and Tomato Salsa
2 ears Jersey corn, roasted and scraped from cob
¼ cup diced red onion
1 jalapeño pepper, seeded and diced
½ bunch cilantro, torn
2 large Jersey tomatoes, seeded and diced
Salt and pepper
Juice of three limes
2 tablespoons olive oil
Mix. Refrigerate 1 hour, then serve.
Vinaigrette for Spinach Salad
1 pound baby spinach leaves
3 shallots minced
¼ cup sherry vinegar
½ cup extra virgin olive oil
Salt and pepper
Mix all ingredients. Whisk vigorously.  Toss with spinach leaves.
---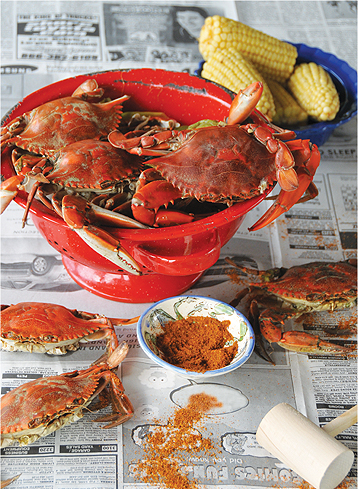 Steamed Crabs and Corn
(Serves 4)
2 dozen crabs
8 ears corn, husked
3 Yuengling lagers
1 onion, chopped
¼ cup Old Bay® Seasoning
1 gallon water
2 lemons wedged
2 bay leaves
1/2 bunch of thyme
8 cloves garlic
3 tablespoons cracked black pepper
Mix all ingredients except crab and corn in large pot. Bring to boil. Add corn cook 10 minutes. Remove. Add crabs. Cover. Cook 15 minutes until crabs are cooked. Serve with copius amounts of beer
and napkins.
---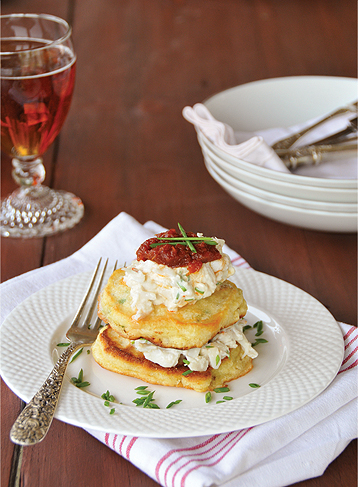 Roasted Corn Cakes with Crab Salad and Tomato Jam
(Makes 8 cakes)
2 ears corn, roasted, cooled and scraped from the cob
1 cup flour
¾ cup buttermilk
¼ cup white cornmeal
2 teaspoons sugar
2 eggs
2 teaspoons baking powder
1 teaspoon baking soda
1 tablespoon olive oil
Pinch salt
¼ cup chopped scallions
In bowl, mix dry ingredients together. Make a well in center. Add eggs, corn and buttermilk. Whisk gently until batter is formed. Add remaining ingredients. Let rest 15 minutes. Cook 3 minutes per side in non-stick sauté pan or on griddle.
Crab Salad
(Serves 6-8 as appetizer)
1 pound jumbo lump crabmeat
3 tablespoons Pommerey mustard
2 tablespoons chopped parsley
⅓ cup mayonnaise
5 tablespoons rice vinegar
Salt and pepper
Dash Old Bay® Seasoning
Mix all ingredients. Chill. Serve on  top of corn cakes with a dollop of  tomato jam.
Tomato Jam
6 Roma tomatoes, cored and chopped
¼ cup dark brown sugar
4 tablespoons cider vinegar
2 sprigs thyme
Mix all ingredients in non-reactive bowl. Let marinate overnight. Put mixture in non-reactive pan. Cook on low setting one hour or until jam is set.
---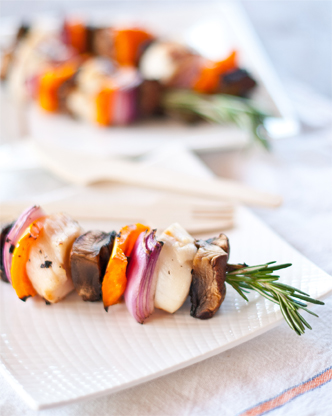 Scallop and Rosemary Kebabs with a Citrus Marinade
(4 skewers)
3 portobello mushrooms, cut to fit skewers
12 scallops
4 long rosemary branches, picked and soaked
1 red onion, quartered
2 orange bell peppers, cut in squares
Arrange rosemary skewers with mushroom, onion, pepper, scallops. Fill rosemary skewers using 3 scallops per skewer.
Marinade
1 orange, juiced and zested
1 lime, juiced and zested
1 lemon, juiced and zested
1 shallot, minced
½ cup olive oil
Process all ingredients in blender. Season with salt and pepper. Pour over skewered scallops. Let rest 20 minutes. Grill over medium heat 8 minutes, turning and basting with excess marinade.